Online Master's in Applied Intelligence
Richelle Navarro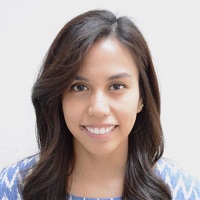 Some things are dead giveaways, Richelle Navarro said. Like when the bars are on the inside of the windows instead of the outside. Or when the bolts on the door seem unusual, as if they were put there to keep "someone from getting out rather than getting in."
From 2010 to 2014, Navarro was a pre-med student at Loyola University of Chicago, intending to become a doctor so she could help people like her sister, who has cerebral palsy. But psychology fascinated her in college, and she came to believe there might be other ways to help others than becoming a physician.
That is how she became an Intelligence Analyst for the Detroit Crime Commission, a nonprofit that assists police and federal agents with criminal investigations.
"My specialties are in gang intelligence and human trafficking," Navarro said.
After eight months in Detroit, Navarro moved to Washington, D.C., to attend the Georgetown Master's in Applied Intelligence program, where she learned the high-level, real-world skills that would help advance her career.
"It was taught by people who were experienced and they were real with us," Navarro said. "In undergrad everything was theoretical, and it's so different in real life."
After graduation, Navarro moved to Houston, where she plans to continue her work in law enforcement. A Filipino-American, she said her background and life experiences help lend a different perspective to investigations that involve diverse communities.
When Navarro started Georgetown's Applied Intelligence program, she was uncomfortable giving briefings, which are important in her work. But her instructors worked with her and urged her to persevere.
"It exposed our weaknesses, but in a good way," she said of the program, "because I was able to work on it and turn it into one of my strengths."