Degrees and Programs in
Graduate Liberal Studies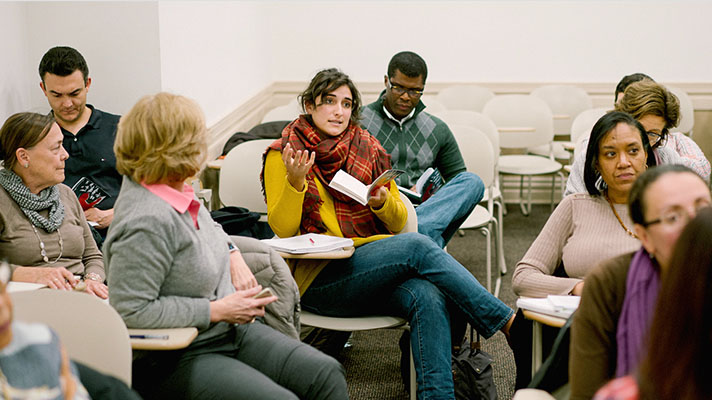 Master of Arts in Liberal Studies Degree
Embark on a values-based intellectual journey spanning art, literature, philosophy, history, politics, and international affairs.
Request Information
Overview
Expand your philosophical, cultural, and academic horizons through Georgetown's Master of Arts in Liberal Studies.
Rooted in an interdisciplinary, values-oriented curriculum, our program takes you on an enriching educational experience in which you'll explore subjects such as art, literature, religion, history, politics, and international affairs.
Our courses have roots in the past with an eye to the future. You'll study the Crusades, the U.S. Constitution, Chaucer, and Shakespeare; examine neuroethics, cyberethics, and global bioethics; and explore the pursuit of peace, religion, politics, globalization, and the search for meaning.
Grounded in Georgetown's rich Jesuit tradition and the core value of cura personalis ("care for the whole person"), our curriculum embodies a comprehensive approach that cultivates the body, mind, and spirit. You'll leave the program with the skills and experience that prepare you for success not only in your current job, but also in every job after.
Our program fosters inquiry, intellect, and curiosity through an emphasis on the exchange of ideas and perspectives. Throughout your time in the program, you'll have the opportunity to engage with a close-knit community of classmates in a supportive and interactive learning environment.
This section has testimonials from current students and alumni.
What is the 'meaning of life'?—How often do you get a chance to engage this question for graduate credit? The Master of Arts in Liberal Studies program reaches deeply into the larger questions inherent in society, literature, security issues, and religion. It's holistic, inter-connective, and inspiring. You are among elite peers with open engagement. I wish I'd had this master's program in my life as a student."

Lauve H. Steenhuisen, Ph.D., Faculty Master of Arts in Liberal Studies
Ideal for working professionals, our program is designed to fit your schedule. We offer options for full- or part-time participation and classes are held on weekday evenings, so you can earn your degree at a pace that suits your needs—without interrupting your career.
Our graduates are inquisitive, committed scholars eager to pursue intellectual advancement and leave their mark on the world. Upon completing the program, you'll have a highly transferable toolset that positions you to deliver value across a range of industries and occupations.
*Tuition for the Summer 2019, Fall 2019, and Spring 2020 terms will be available in early 2019.
---