Master's in Public Relations & Corporate Communications
Shakirah Hill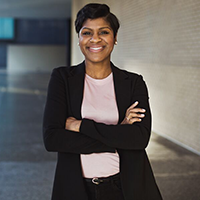 Ten years ago, Shakirah Hill was preparing to look for work in New York City when she heard about an information session for Georgetown's graduate program in Public Relations & Corporate Communications.
It was 2007, near the start of the Great Recession, and Hill, a recent honors graduate from the University of Maryland, had developed a keen interest in marketing.
"I attended the information session and loved the course structure," she said. "The opportunity to work with clients in real time was something that really appealed to me."
Today, Hill is the Director of Digital Strategy for Communities in Schools, an organization dedicated to empowering students to stay in school and succeed in life. The organization works with more than 1.5 million students in 25 states and the District of Columbia to provide the kind of academic, social, and emotional support to help keep them in school.
As it turns out, Hill got her start in public interest work while studying at Georgetown. For three years, she worked in communications for Equal Justice Works, a nonprofit that funds hundreds of public interest attorneys for clients in need. Later, she moved to private firms, Environics Communications and Blue State Digital, where she served as an account supervisor and digital strategist.
At the informational meeting where she first learned about Georgetown's PR program, Hill was struck by the number of high-level, working professionals teaching in the program. Her courses in strategic planning, budgeting, and client management were all hands-on and taught her practical skills she could use at work.
"I was able to apply the tools I learned at Georgetown directly to my work with clients," Hill said.