Master's in Technology Management
Maura Imparato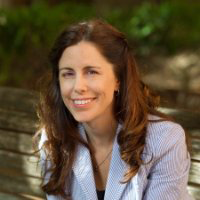 For someone as innovative and tech-savvy as Maura Imparato, it was a rather old-fashioned way to learn about Georgetown's graduate program in Technology Management.
"I found an ad for the program in a print newspaper," Imparato recalled. "It was about the last time I read one."
That was in 2009, and by then Imparato had already pursued a wide range of academic interests, from anthropology to Persian art, technical writing, and documentary photography. Then a science writer for the Smithsonian Institution, she knew the technology field would keep growing, and was eager to get into it.
"I see the graduate work as picking up a new vocabulary," Imparato said. "It's a lot like learning a culture and a language."
In Georgetown's program, Imparato did, indeed, pick up a new vocabulary. A busy working parent, she somehow found time to help start the University's Technology Management Student Association and found the Women in Technology Management group. When she graduated in 2012, she received its Outstanding Student Award and was asked to return as a faculty member.
Her studies at Georgetown had an immediate impact on her career. Soon after enrolling in the TM program, she became a Web Services Project Coordinator for the Smithsonian. More recently, she has worked for the International Monetary Fund, Georgetown's McDonough School of Business, and the National Institute of Mental Health, where she contributed project management services for a neuroscience site. She also began studying neurotechnology in the Georgetown Doctor of Liberal Studies program.
Imparato has been a frequent guest lecturer for the Technology Management program and has assisted students with their Capstones as a teaching assistant.
"I really enjoy mentoring new technologists and guiding them through the thinking process," she said.
Imparato is currently on the podcast "Students vs. Startups" along with fellow Technology Management instructor John Gilroy.