Master's in Technology Management
Oscar Tiglao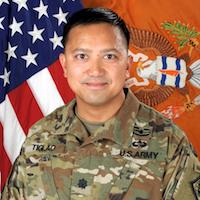 From "wig wag" flags and torches, to video streaming and email, the U.S. Army Signal Corps has come a long way since its inception in 1860 on the eve of the Civil War.
Back then, the challenges were elemental: things like smoke, fog, and the likelihood of being targeted by the enemy. Today, they are technological and managerial, as the Army strives to maintain state-of-the-art communications on its bases throughout the world.
Lt. Col. Oscar Tiglao, who in May was tapped to lead the 102nd Strategic Signal Battalion, 2nd Theater Signal Brigade, in Wiesbaden, Germany, said he feels blessed by the opportunity and is enthusiastic about the work ahead.
"I like complex challenges that aren't instantaneously solved," said Tiglao, a 2015 graduate of Georgetown's Technology Management program. "I like taking on these long-term problems where you have to build out intermediate objectives" on the way to a solution.
Tiglao started the program in 2013, when he and his family were living in Lorton, Virginia, and he was working near the Pentagon. Up until then, he said, his understanding of the field was piecemeal. But Georgetown stitched it all together.
"It codified a lot of ideas I had learned from peers," Tiglao said, "and delivered them to me in a coherent manner."
He said the program gave him a foundational knowledge of technology management. His concentration was in cybersecurity, but he also studied key principles of portfolio management and enterprise IT—essential skills for a job commanding a mix of 370 military and civilian personnel.
Since graduating from the program, Tiglao has referred back to these principles many times, and he expects to do so again in the future.