Master's in Technology Management
Enobong Etuk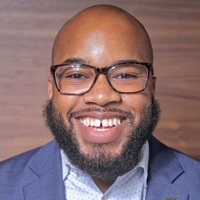 Enobong Etuk is a computer expert, a techie, someone "who likes tinkering and figuring out how things work." So it's not surprising that, at the University of Maryland, where he earned a degree in Geographic Information Science and Cartography, he gravitated toward the tech-heavy field of cybersecurity.
It's also unsurprising that, after graduation, he would seek to expand his skills by enrolling in Georgetown's Master's in Technology Management program, with a concentration in information security.
So, what did he like best about Georgetown? Working by himself on a highly technical problem?
"I think what I enjoyed the most was the people," Etuk said. "I've made friends that I've kept today, and it was just a great way to network and connect with other folks in the industry: people who are doing other things in other companies, within the DMV, and across the nation."
It's called technology management for a reason. While the program involves state-of-the-art technology, its focus is on the bigger picture: understanding entire systems; engaging with local business leaders on real-world problems, translating complex issues in ways that non-technocratic customers and coworkers can understand.
Etuk works at Booz Allen Hamilton, having been promoted to Senior Consultant in 2018, the same year he graduated from Georgetown. His clients have included the State Department, the National Institutes of Health, and the Department of the Navy.
"The most interesting thing about being at Booz Allen is being able to work and support several different clients and projects," Etuk said. "I've been on four projects now, with the ability to do a project for a year or so and then bounce onto the next opportunity and learn a new skill or support a new environment or a new area, whether it be in health, government, or whatever the case might be."