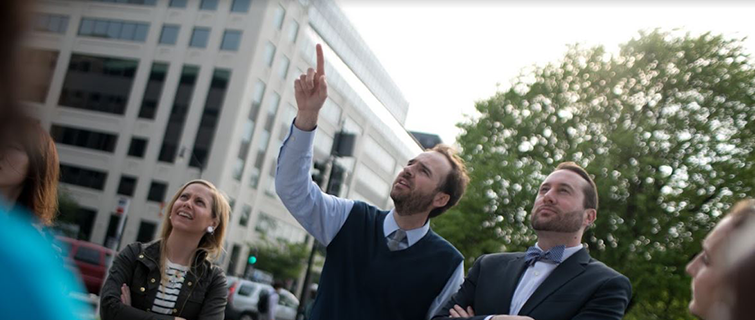 June 2018
Dear Friend of the Program:
With this spring's graduation behind us, June offers the opportunity to take stock in the amazing work of our students and faculty and share an update on the ongoing evolution of the urban planning program at Georgetown University. It is with great excitement that I share our recent achievements, as we have just completed the program's fifth year of academic operations.
In this short period, our faculty and leadership have cultivated a truly innovative master's degree in urban planning; one which is responsive to the disruptive forces of contemporary urbanism and is distinctly applied in its embrace of professional practice.
Our students are highly motivated to make a positive impact on the world by shaping the many steps of the city-building process. They have come to Georgetown University to access our globally unique resources and to position themselves as professionals. Each of the last five years has marked the steady growth of our student body and we are now the largest urban planning program in the Washington metropolitan region—and we are still growing.
Our network of alumni, friends, and partners represents an extended community of practice which frames the classroom experience of all our students. This network allows us to convene thought leaders from cities around the world to enter into a dialogue in a spirit of innovation, where professional practices can be challenged, defended, and reimagined.
The following is a list of annual highlights from our students, faculty, and program initiatives:
Program Initiatives
We were honored with a distinction by the national MetroLab Network for our partnership with the United Parcel Service. Structured as a client-responsive planning studio and conducted together with Georgetown's Master's in Technology Management program, New Urban Technologies explores the design, policy and investment strategies at the nexus of big data, urban systems, and the management of public space.
Since many of our students advance research projects in direct collaboration with external partners, we have now created a clearinghouse for our partners to request new research from our students and faculty. Inspired by the open-air trading markets of ancient Rome, we have called this platform the "Loggia." Loggia is a survey instrument for external partners to propose new applied research for our students.
Our commitment to the practices of place-making and place-management builds on dedicated courses and external partnerships with the innovative business improvement districts in Washington, DC. These new practices are forging sophisticated economic development strategies which responsibly position local neighborhood stakeholders in an international marketplace of capital investments in real estate.
Our engagement in themes of rapid urbanization enabled students to conduct a field study in China where they explored the creation of a new metropolitan-region in the heart of China. As part of this effort, we were honored to host Professor Liu Jian of Tsinghua University to gain insights into new urban research in China.
From the inception of the program, we have explicitly integrated the disciplines of urban planning and population health. Last fall, we hosted one of the most widely admired thought leaders Professor Richard Jackson of UCLA, who engaged students in the new dimensions of professional leadership in this dynamic area of practice.
Related to our commitment to resilience planning, we hosted the National Atmospheric and Oceanic Administration's Digital Coast Partnership which brought together frontline planning professionals from across the country. Later in the year, students and faculty flew to Miami to participate in a collaborative research symposium organized by Georgetown University, the University of Miami, and Harvard University which specifically explored land use regulations and long-term sea-level rise in Miami's many impacted neighborhoods.
And in our ongoing collaboration with the American Planning Association, our students attended the APA national conference, served on the National Capital Region steering committee, and we hosted their annual meeting.
In addition to annual student awards for exemplary academic achievement and outstanding capstone thesis project, the program institutionalized a new student award in geo-spatial analysis.
Faculty
Ellen McCarthy received this year's outstanding faculty award and in her consulting practice, she conducted a comprehensive land use and zoning review for the country of Liberia.
Jenny Schuetz was appointed Rubenstein Fellow at the Brookings Institute Metropolitan Policy Program, and this spring we discussed her analysis of residential market absorption related to the Amazon HQ2 relocation decision.
HQ2 was on the minds of many of our faculty, especially Michael Stevens, who collaborated to propose one of the most ambitious strategies to harness the HQ2 project to bridge communities on both sides of the Anacostia River.
Jamie Kralovec authored an article in Jesuit Conversations magazine about the relationship between the discipline of urban planning and the mission of Jesuit universities.
New faculty member Richard Bradley, founder of the DowntownDC Business Improvement District, formulated organizational development strategies for several new business improvement districts, including in Capitol Heights, Dupont Circle, and Crystal City.
Scott Davis is advising the federal government for one of the most challenging community planning efforts in the country, the Isle de Jean Charles Resettlement Project, which is a federally funded, first-of-its kind initiative to relocate the entire population of Isle de Jean Charles, a community on the coast of Louisiana. Due to myriad environmental factors, the island has experienced 98 percent land loss since 1955.
Students
Students have come together to formalize a governance structure for the Student Life Committee, a student-led and student-governed organization that receives funding from the program to advance the social cohesion of the student body.
Our annual class trip out of Washington brought students to Philadelphia for intensive field study. We talked local politics with planning director Anne Fadullon in Reading Terminal Market; visited new revitalization projects with the Center City BID, Delaware River Waterfront Corporation and with WRTDesign; and we walked the streets of Fish Town with neighborhood activists.
Students lit up social media networks by somehow finding time to build a mini-golf course in the middle of 7th Street in Chinatown in celebration of Park(ing) Day.
Graduating student Alyia Gaskins was awarded the ULI Randal Lewis Health Mentorship award in order to advance her interests of weaving together transit-oriented-development with community health planning.
We are now producing more than 20 student research papers every year, many of them in direct collaboration with external organizations. The subjects are ambitious and far-ranging, including areas such as the practices of planning for alternative modes of transportation, the negotiation of project-based community development agreements, and extending to subjects such as the measures needed to shape the rapid rise of second-tier cities in West Africa.
Looking Forward
I am excited to announce three activities which will be subject of increased attention in the coming year:
This week, I signed a partnership agreement with Wuhan University's School of Urban Design and Planning which establishes a framework for collaborative research and educational exchange. Wuhan represents the vanguard of metropolitan planning in China and at the cusp of new economic development practices in the rapidly urbanizing cities of East Asia.
Program faculty—led by Richard Bradley, Ellen McCarthy, and Uwe Brandes—have formed the Place Leadership Project. This research initiative will form a regional network of place management professionals and engage in applied research to further codify professional practices of this highly innovative area of the planning profession.
And last but certainly not least, the coming months will mark the formal debut of the Georgetown Global Cities initiative, an interdisciplinary research network of faculty from across the university.
We live in a golden age of urbanism—a time where cities around the world are reinventing the processes of community development and the production of new urban places. With our faculty, staff, students, and alumni, Georgetown's urban planning program carries these dialogues forward with great responsibility, knowing that issues such as economic prosperity, social inclusion, community health, environmental sustainability, and the expression of cultural meaning are only achievable through the creation of great cities.
I would like to thank you for your engagement with us in this last year!
Sincerely,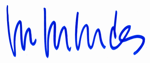 Uwe S. Brandes
Associate Professor of the Practice and Faculty Director
Master's in Urban & Regional Planning
Georgetown University School of Continuing Studies
Learn more