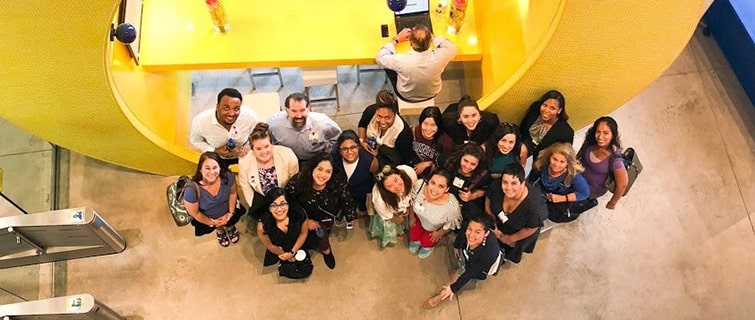 Listen to David O'Leary describe the design thinking exercise he and 16 other Georgetown University graduate students participated in at Google's headquarters in Ireland, and one word might stand out. (Hint: It's a verb.)
Here was the challenge, as posed by Boaz Gavish, Google's Global Performance Curriculum Manager:
It's common knowledge that many travelers don't exactly relish their airport experience, whether flying into Dublin from New York or Washington, D.C. Looking at your own recent airport experience and what you've gleaned from interviewing other students, how would you make it better?
Working in groups, the students scrawled a host of ideas on yellow sticky notes, then gave them to Gavish to discuss with the entire class.
"Essentially, you're branching out and getting as many ideas out as possible," O'Leary said, "then focusing on the group of ideas that are most likely to create a solution."
Notice he didn't say "solve the problem." He used the word "create"—"create a solution." That is the purpose of design thinking: to go beyond merely solving a problem—or what one supposes to be the problem—and arrive at a solution that redounds to the enterprise's core mission and goals.
"That's the way you make breakthroughs, Gavish said. "Otherwise, you're just building things."
Questioning Assumptions
The students—from the Integrated Marketing Communications and Public Relations & Corporate Communications programs—stayed for a week at Dublin's venerable Trinity College. In addition to meeting with Google, they talked with the head of the Analytics Group at Nokia Bell Labs, the director of FleismanHillard International Communications, the head of the Commercial Section of the U.S Embassy, and the Head of Communications for Special Olympics Europe Eurasia. Their final project was creating a social media plan to increase the number of Special Olympics volunteers in Europe and Eurasia—a complicated undertaking given the diversity of cultures involved.
Conventional logic is still useful in solving problems, and design thinking doesn't discount its advantages. But it employs them in an expansive, nonlinear way that involves questioning assumptions and going beyond the obvious answers.
"Design thinking helps us in the process of questioning: questioning the problem, questioning the assumptions, and questioning the implications," wrote Rikke Dan and Teo Siang in a report for the International Design Foundation. They said it is "extremely useful in tackling problems that are ill-defined or unknown, in human-centric ways…"
The authors break the design thinking process into five phases: Empathize with your users, define those users' needs, brainstorm ideas, make prototypes that create solutions, and continually test those prototypes and their various iterations.
Creating Solutions
With knowledge increasing exponentially and once-discrete fields such as biology, engineering, and computer science converging in multiple ways, the number of "ill-defined or unknown" problems facing humanity will surely increase—and so will the need for new processes to solve them.
In marketing, design, and other fields in which customer engagement is key, design thinking means empathizing with the end users of the product or service to better understand their needs. That way, there's a greater chance that the problems identified for solving are indeed the right ones.
"To me, design thinking goes back to the basics of marketing, which is letting yourself walk in someone else's shoes," said Wendy Zajack, Faculty Director for Georgetown's Integrated Marketing Communications and Design Management & Communications programs.
Integrated marketing student Lauren Strayhorn, an account executive at Ketchum, says the public relations firm employs a similar strategy.
"We call it RISC," she said. "Research, Insight, Strategy, and Creative."
For the airport exercise, the students broke into three groups and each created a solution. One group envisioned an airport app that would help travelers meet up with friends and others who share their interests. The second considered a personalized robot (there was no cost limit) that provides airport information and responds to various commands. The third used Legos to design a space in the airport that would feature beds and massages.
"This is an area of the airport that will give you the ultimate respite from the airport," Zajack said.
Gavish, of Google, uses design thinking concepts at work and in his personal pursuits. One of the most recent of these was writing and illustrating a children's book for his niece about a "rocket ship tree" that takes a girl to various imaginary planets. When it came time to test the book (the "prototype "phase) he asked some of the parents at Google to read it to their children and give him feedback.
Gavish wondered what metrics to use for predicting whether the book would be a success, so he asked some other colleagues.
"The answer I got was: 'You should ask if the child wants to read the book again.'"
Learn more