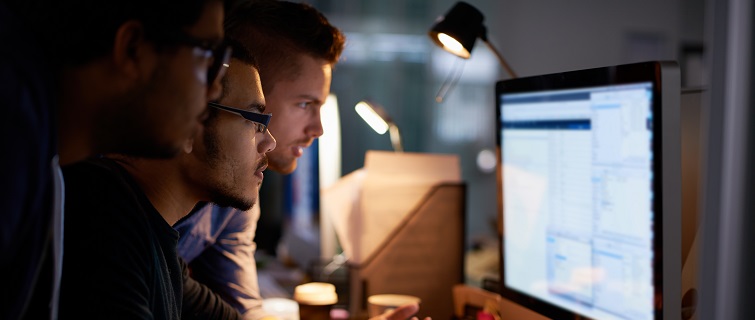 It's not your imagination. Cyberattacks are everywhere and they're a problem.
From a one-person startup to a multinational corporation to a sovereign nation, everything and everyone is vulnerable to a cyberattack. Long gone are the days when hardware and software were enough to protect organizations against data breaches and cyber threats. Today, the most effective defense centers on individuals: strategic thinkers who can bridge gaps between security policies, information technologies, and human behaviors.
The industry is expanding and needs all kinds of people with all kinds of backgrounds. Career opportunities span many disciplines, industries, sectors, and roles, including law, operations, security, finance, IT, and government. Professionals in this field must be detail-oriented, able to manage their time, think strategically, solve problems creatively, and reason analytically. They will also share a desire to help organizations improve defenses, reduce vulnerabilities, and combat today's rampant cyber threats.
Career Options for Cybersecurity Risk Management Graduates
Careers in cybersecurity are as varied as the networks, systems, and threats themselves. Here is a sampling of possible jobs in this exciting field.
Cybersecurity Architect
Like a house, a sturdy network is architected before a nail is hammered or a line of code is written. Cybersecurity Architects design, build, and implement enterprise-class security systems for an organization. They align standards, frameworks, and security with the overall business and technology strategy; identify and communicate current and emerging security threats; and design security architecture elements to mitigate threats as they emerge.
Cyber Risk Management Analyst
Preventing cyberattacks is unglamorous work, and Cyber Risk Management Analysts get their hands dirty. They perform hands-on security-focused gap and risk assessments to identify, document, and track significant information security risks associated with cloud and physical IT infrastructure, applications, development, information systems, and vendors, and other third parties.
Cybersecurity Compliance Specialist
Security and compliance must work together and require a specialist trained in both. Cybersecurity Compliance Specialists perform risk assessments/gap analyses for clients based on their individual compliance obligations. They must provide accurate analysis and environment scoping guidance to clients to ensure any proposed solutions are aligned with compliance controls in the most efficient manner.
Cybersecurity Risk Manager
The threat of a cyber-attack will never go away, but we can anticipate and minimize the effects. Cybersecurity Risk Managers use quantitative and qualitative methodologies to improve and optimize existing risk assessment frameworks that monitor cybersecurity risks across all business units. They also lead risk assessments for multiple business units to develop and prepare risk metrics, reports, and executive dashboards.
Information Security Analyst
Information Security Analysts act as round-the-clock guardians of an organization's computer networks and systems. With their ring of digital keys and virtual heavy-duty flashlights, Information Security Analysts and Engineers patrol the network to protect sensitive data from cyber-attacks day and night.


If you're looking to start or advance your career in cybersecurity, consider earning an online Master's in Cybersecurity Risk Management from Georgetown University. You'll gain hands-on practice developing and executing integrated strategies, policies, and safeguards to manage cybersecurity risks across an enterprise.
Learn more