Degrees and Programs in
Cybersecurity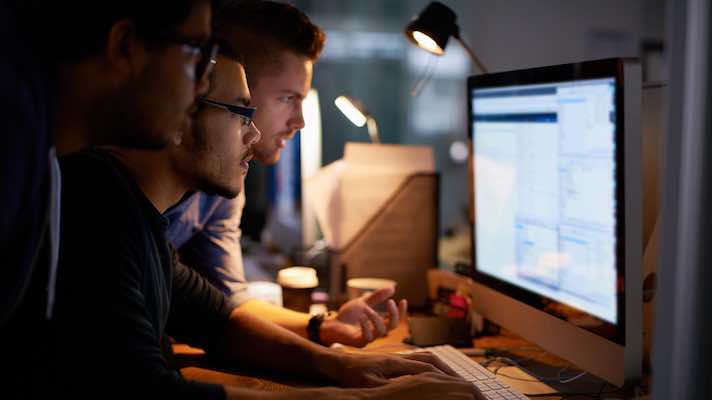 Master's Degree
Gain hands-on practice developing and executing strategies, policies, and safeguards to manage cybersecurity risks across an enterprise.
Apply Now
Request Information
Master's in Cybersecurity Risk Management
Georgetown University will continue with remote learning for all on-campus programs through May 2021.
---
Long gone are the days when the use of technology alone was enough to protect organizations against data breaches and cyber threats. Today, the most effective defense revolves around people: strategic thinkers who can effectively bridge gaps between security policies, information technologies, and human behaviors.
Georgetown University's Master of Professional Studies in Cybersecurity Risk Management prepares you to fill this role. You'll master the contemporary skills needed to develop and implement risk governance frameworks that increase resiliency for individuals, departments, and organizations.
Our program takes an interdisciplinary approach to cybersecurity, examining the field through the lenses of ethics, communications, risk management, compliance law, security, computer science, and organizational change. The curriculum prepares students to design strategies that integrate best practices in cybersecurity, regulatory compliance, and risk management. In the classroom, you'll engage with industry experts, who will introduce you to the latest best practices within the cybersecurity landscape. You'll also gain hands-on experience developing and executing integrated strategies, policies, and safeguards to manage risks across an organization.
Number of Credits: 33

Enrollment: Full-time or part-time

Enrollment

Full-time or part-time

Format: On-campus & online

Format

On-campus & online

Time to Complete: ~2 years (part-time)

Time to Complete

~2 years (part-time)

Tuition: $47,553*

Semester of Entry: Fall, spring, summer

Semester of Entry

Fall, spring, summer
Drawing from frameworks established by the National Initiative for Cybersecurity Education (NICE) and National Institute of Standards and Technology (NIST), our curriculum emphasizes the competencies and functions needed to address today's increasingly complex cyber threats. You'll study different approaches to cybersecurity governance and understand how to identify, mitigate, and manage risks across the enterprise. This includes everything from systems oversight and policy enforcement to infrastructure support, threat detection, employee awareness campaigns, and response and recovery protocol.
Ideal for working professionals, our program is designed to fit your schedule. We offer flexible options to take classes online, on campus, or through a combination of both—so you don't have to interrupt your career to earn your degree.
This section has testimonials from current students and alumni.
This program offers a unique educational approach in the cybersecurity field by preparing students to manage risk holistically and across an organization's functions."

Frederic Lemieux Master's in Cybersecurity Risk Management
In addition to developing foundational knowledge, you'll explore some of the most pressing ethical issues today's cybersecurity professionals face. You'll learn how to incorporate guiding ethical principles to not only make sound decisions but also create comprehensive risk reduction strategies that align with business objectives.
Upon completing the program, you'll be prepared to effectively and responsibly protect organizations from today's ever-evolving cybersecurity threats and vulnerabilities.
*Tuition for the Summer 2021, Fall 2021, and Spring 2022 terms will be available in early 2021.
---