Master's in Global Hospitality Leadership
Mason Harrop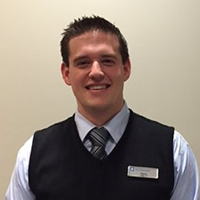 Some people seem to be made for the hospitality business. They get a taste of it when they're young, then either work their way up through the industry ranks or launch their own business. Think: J. Willard Marriott, who opened a tiny root beer stand in Washington, D.C., some 90 years ago.
Mason Harrop's story hasn't reached Marriottian proportions (at least, not yet), but it's impressive how far he's come since working as a teenager in his neighbor's sandwich shop in Ogden, Utah. From the beginning, he was a natural in a field that requires hard work, attention to detail, and a passion for serving the public.
"I just absolutely loved it," said Harrop, who graduated from Georgetown's Global Hospitality Leadership program in May 2017.
There was a time when someone could advance in hospitality by learning on the job (see "tiny root beer stand" above). But Harrop decided that in today's competitive environment he needed a master's degree. He chose Georgetown for its reputation, location, and Jesuit tradition.
Once in Washington, he landed a job with Wyndham Vacation Ownership, the timeshare division of the global hotel chain, at National Harbor. Since then, he's been promoted twice and is now an Engineering Supervisor managing about 100 employees in the Operations and Maintenance division of Wyndham's 250 National Harbor timeshares.
In this job as in his previous ones, Harrop draws on his education, experience, and the intangibles that he's possessed all along.
"The hospitality industry is all about relationships … about the interaction between one person and another," he said. "You can't separate hospitality from the people who work in it."