Master's in Global Hospitality Leadership
Dagmawi Alemayehu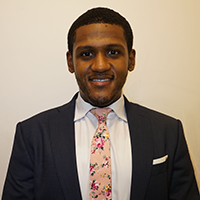 Dagmawi "Dag" Alemayehu was often told he had a winning personality that would be just right for hotel management. It was a well-informed—if slightly biased—assessment from his mother, who had worked in the business as a telephone operator for 28 years.
"She told me that with my personality—you know moms—I'd be successful," said Alemayehu, a 2016 graduate of the Georgetown master's program in Global Hospitality Leadership.
Shortly after he started classes, Alemayehu, who was then working at the Westin Alexandria, became a Front Office Manager at the Westin Georgetown, where he supervised about 40 employees.
The moral of this story? (Actually, there are two.) Listen to your mother—and go to Georgetown.
Why Georgetown? Alemayehu said the University has a wealth of connections throughout the world and in its own backyard—a "backyard" that includes the world headquarters of Marriott, Hilton, and Choice Hotels.
"When you think about it, Washington, D.C., is like the Silicon Valley of hospitality," Alemayehu said. "There's nothing like it."
Students learn from instructors who are industry leaders, a point Alemayehu illustrated with this story from his Westin Georgetown job interview: He said his talk with the hotel manager was going fine when she excused herself to greet a company executive who had arrived early for a quarterly ownership meeting. He turned out to be one of Alemayehu's instructors at Georgetown, so the manager brought them together.
"We'd love to have someone like you," the executive said.
Alemayehu had planned to become a hotel manager, but the program got him interested in business development. He is now the business development manager for hospitality and tourism at goDCgo, a District of Columbia initiative that promotes public transportation. His job is to reach out to the region's vast hospitality industry and the thousands of visitors it hosts, "so that, when people think of D.C, the last thing they want to do is bring their car."