Master's in Global Hospitality Leadership
Tom Whitney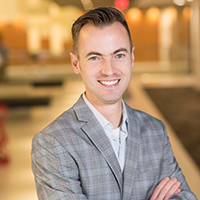 Some people have to search hard to find a career. For others, the choice comes naturally.
Tom Whitney was fortunate enough to be in the latter group.
"The hotel industry has kind of fascinated me and pulled me into it," said Whitney, who has worked for Marriott International, Inc. for nearly 10 years. "The Marriott job found me rather than me finding the job."
A 2005 graduate of the University of Utah, where he majored in architecture, Whitney joined Marriott in 2007 as a Project Coordinator, then went on to become a Senior Project Coordinator and later, a Design Manager. But after more than three years in the Design Manager position, his career seemed to stall.
"I had hit a ceiling," he said. "I was getting frustrated, so I decided I needed to go back to school."
That's when he found the Global Hospitality Leadership program at Georgetown.
At Marriott, Whitney served on a feasibility team that examined new projects and their potential profitability. He loved the work and wanted to continue it at a higher level, but he noticed that the people being selected for higher-level jobs had backgrounds in finance.
At Georgetown, Whitney took advantage of courses in strategic planning and finance, including Feasibility, Analytics, Valuations, and Business Intelligence for Hospitality Development, which explored the very issues he was dealing with at work. Other classes examined subjects like entrepreneurship and revenue management.
"My master plan is to one day build and open a hotel myself," he said.
The Hospitality program is small and close-knit. Students get to know one another and work together on assignments. Instructors even give out their cell phone numbers and make themselves available on weekends.
"They were more than willing to take my calls and walk me through some of the concepts," Whitney said.
Whitney graduated from the program in May 2016. Eight months later he was named Senior Manager, Feasibility and Market Analysis, at Marriott International. Of the Georgetown program, he said "it really accelerated my career."