Master's in Global Hospitality Leadership
Paula Olinto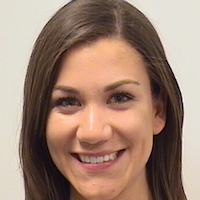 It's one thing to like going out to restaurants; that's true for lots of people. But to really love working in one, managing one, or helping design a whole group of them—that takes a special type of person: Someone who doesn't mind working long hours in a changing, fast-paced environment. Someone who likes meeting new people and making them feel at home.
Paula Olinto is such a person.
"It's a combination of creativity, business, and service," says Olinto, a 2018 graduate of Georgetown's graduate program in Global Hospitality Leadership. "That's the thing I love."
A native of Brazil and a Penn State graduate, Olinto started out as a bartender to pay her way through college. Then she became an assistant manager of a Japanese restaurant in Chevy Chase, Maryland, where she helped develop and launch a sister restaurant for same company. That work reinforced her interest in developing restaurant concepts and strategies.
"I wanted to continue growing in my career, but I needed more than just management experience," Olinto said.
She needed a master's program that would give her a comprehensive understanding of the hospitality industry, and she found that at Georgetown.
"It accomplished exactly what I was looking for," she said.
Shortly after graduating, Olinto landed a job as an executive assistant at Sunnyside Restaurant Group, which operates three types of restaurants in the Washington, D.C., metro area and is developing two new concepts. With the knowledge and skills she gained at Georgetown, she's been able to work effectively with a group of established restaurant industry professionals and bring some new ideas to the table as well.
So, can restaurants really bring together diverse groups of people and bridge their differences, as enthusiasts like José Andrés, the world-renowned chef, maintain? Olinto believes that they can, and that even if someone's culture sounds "foreign" or "strange," "once you sit down with them and share food with them, you understand them a little bit more."