Master's in Global Hospitality Leadership
Skye Curry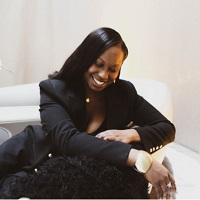 For Skye Curry, it was a near-perfect fit. A former middle school teacher, she had worked hard to break into the convention and event-planning business and for nearly a year was serving as Business Development Manager for Destinations DC, a nonprofit that supports Washington's $8.2 billion tourism industry.
Then, in the spring of 2020, Curry, like so many others in the hospitality industry, was furloughed.
"Each month, I would get a call saying my role just wasn't a priority at the time," Curry said. "No one's thinking about the future when it comes to conventions and meetings when you don't even know what's going on with this pandemic."
This story ended on a positive note for Curry, a 2019 graduate of Georgetown's Master's in Global Hospitality Leadership program. After a tough early summer looking for work, she used her networking skills to land a job at the company that she had wanted to work for from the start: Marriott International, which had just completed a new AC Hotel near the Washington Convention Center. In the summer of 2020, Curry began her new role to help lead Front Desk Operations.
The University's hospitality program can claim some credit for giving Curry the skills she needed to come back during this difficult time. But most of it goes to Curry herself, her perseverance and positive attitude, her belief that the hospitality industry can be more about just making money: that it can be a force for good. She likes that, as a matter of course, customers are supposed to be treated with courtesy and dignity, no matter who they are or where they come from.
"I've always had a fascination with hotels, and I just loved the way hotels tap into the senses," she said. "I love that about this industry."