Master's in Global Hospitality Leadership
Mina Maryam Shafiee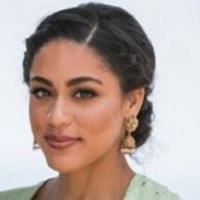 What was it like for Mina Shafiee to pursue a master's degree from Georgetown's Global Hospitality Leadership program while serving as a full time Entertainment Account Manager for a busy travel management company?
Well … complicated.
"I would be in class sometimes, and I'd get an emergency email saying to fly someone right now to New York because he just got put on one of the [talk] shows for tomorrow night," Shafiee said.
Then she would tell her supervisor something like, "Let me work on this now," while she was learning about accounting and finance in a classroom of Georgetown's School of Continuing studies in Washington, D.C.
Shafiee's story might be unusual, but it's not unique. Many students pursuing Master of Professional Studies degrees are juggling full time jobs, family responsibilities, and a variety of other commitments as they gain academic and real-world skills that will advance their careers. And, in light of this fact, all the programs are designed with these busy professionals in mind.
Shafiee chose Georgetown after seeing a video about the program. Recognizing that she was nearing a plateau in her career, she felt she needed to increase her knowledge in other areas of the business.
"In a minute, I'm going to reach my peak," Shafiee told herself. "And what am I going to do to differentiate myself?"
Today, Shafiee is a Senior Travel Consultant for BCD Travel, where she handles all aspects of client itineraries. In addition, she and a colleague are planning to launch a "wandering biergarten" in a 1963 Boles Aero that will take the sounds, sights, and flavors of this Old-World staple to beaches and other locales in the Los Angeles area.
Before starting the program, Shafiee understood entertainment and hospitality from a "big picture" standpoint. Georgetown taught her the essential details.