Master's in Applied Intelligence
Alexa O'Brien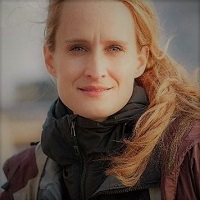 We call these profiles Success Stories for a reason: Most alumni we feature have either used their Georgetown experience to start a new career, or advance in knowledge and responsibility in their current ones.
When Alexa O'Brien entered the master's program in Applied Intelligence, she was already a widely-known analyst, covering intelligence and law enforcement and published by international news media and non-governmental organizations.
So why did she pursue a graduate degree?
"Today, non-governmental and media analysts are acquiring, processing, analyzing, and publishing intelligence," O'Brien said. "When journalists are denied access to battlefields in air power dominated conflicts, for example, they collect and analyze open-source intelligence, including from social media and commercially available imagery and geospatial intelligence."
O'Brien, who graduated in May, received a Tropaia Award outstanding student for her work in the program. Her Capstone, which she intends to publish, explores the ethics of handling intelligence by media professionals. Her advisor, a member of the Georgetown faculty, is a senior leader in the intelligence community.
"Being able to engage with my advisor on the deeper ethical and counterintelligence questions that arise from the case studies was a once in a lifetime opportunity," O'Brien said. "I wouldn't have had that if I didn't go to Georgetown."