Master's in Applied Intelligence
Ronald Herrera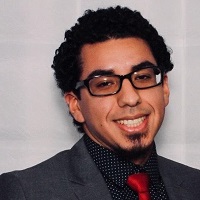 Ronald Herrera's fascination with intelligence work started on the periphery—when he was part of the Marine Security Guards stationed at various U.S. diplomatic missions in Turkey and Croatia. But it wasn't long before he was working alongside intelligence experts, both civilian and military, and realizing that he had a knack for it.
After leaving the military in 2015, Herrera got a job at the State Department, working with security analysts in the intelligence division.
"In 2017, I started looking at master's programs, because I was so fascinated with the job and everything around it," Herrera said.
He found the right fit with the Master's in Applied Intelligence program at Georgetown University's School of Continuing Studies.
Herrera began the program in 2018 and, while a student, got a job in intelligence at the Bureau of Alcohol, Tobacco, Firearms and Explosives (ATF). Later, he moved to the Financial Crimes Enforcement Network at the State Department, where his supervisors "were really impressed with the whole curriculum. They said they looked at it after my interview."
Throughout the program, his work and his education complimented one another. The kind of issues he faced on the job were discussed in class by professors with deep experience in the field. And if, for some reason, they were talking about something he wasn't facing at work, he learned that he would face it one day.
"It definitely prepared me," Herrera said. "I took one of the cyber asset classes as a whim, because I thought it sounded interesting, and it also helped me in my current setting. Everything with money now is going more cyber-based. And that cyber class really kind of gave me a lens that I can apply now in my work."