Master of Arts in Liberal Studies
Walter Ratliff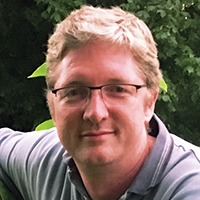 The good that can spring from religion and the cruelties people inflict on one another in its name have preoccupied Walter Ratliff for nearly two decades; and he has an urge to explain these phenomena, as well as they can be explained, to a broader, secularized world that is often mystified by both.
In 2000, the year before beginning Georgetown's Master of Arts in Liberal Studies program, Ratliff—then a freelance television producer—traveled to Kaduna, Nigeria, where the adoption of Shariah law had sparked cyclical waves of violence that killed hundreds of Christians and Muslims.
Ratliff dutifully covered the tragedy for his documentary, but he felt he needed to understand it more deeply: He wanted to know why. His opportunity came via Georgetown's program, which by nature, is interdisciplinary and self-directed, in concert with the University's Prince Alwaleed bin Talal Center for Muslim-Christian Understanding.
"It was a chance to study under leading scholars in a field that was becoming increasingly significant on the world stage," said Ratliff, now Content Manager/Editor for the Associated Press's National Religion Beat. "What Georgetown was offering seemed like a custom fit."
Ratliff master's degree focused on Islam and Christian-Muslim relations. He has written several books on the subject, including "Pilgrims on the Silk Road: A Muslim-Christian Encounter in Khiva," which uncovered remarkable stories of interreligious cooperation following the late 19th-century migration of Mennonites from southern Russia to Uzbekistan. The book won a gold medal in the Readers' Favorite book awards.
In his books and daily journalism, Ratliff explores what he calls "the intersection of faith and public life." And he credits his experience at Georgetown—both the academics and the relationships he built with faculty and other students—with giving him a deeper understanding of this complex and powerful relationship.