Master of Arts in Liberal Studies
Mark Woodson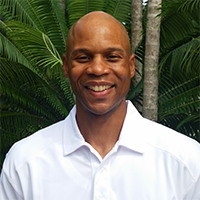 If you want to encourage young people to work hard and aim for college, you could tell them all the things they've no doubt heard (but not necessarily internalized) about the benefits of a college degree. How it will help them find a better job. How they could make more money than their peers with less education. How—to use some well-worn phrases—it can open doors for them, enrich their lives, and be the key to their success.
Or you could simply lead by example.
Mark Woodson, Dean of Students at Maryland charter school College Park Academy, takes the first approach, to be sure, but his life is a testament to the second.
"I loved being a college student. I love school," said Woodson, a 2015 graduate of Georgetown's Master of Arts in Liberal Studies program. "I just enjoy learning for the sake of learning."
College Park Academy, which is affiliated with the University of Maryland, has about 500 students from a variety of backgrounds, but a large portion receive free or reduced-priced lunch and would be the first in their family to attend college. It is with these students that Woodson spends much of his time.
"There are students here who don't have the academic foundation you want in middle school and high school," he said.
A Rutgers graduate with a degree in sociology, Woodson helps teach Introduction to the Social Sciences in the University's Bachelor of Arts in Liberal Studies program. He draws on his Georgetown experiences—both as a student and teacher—to show young people that there are many routes to a college degree.
"It's not just about the content," he says of these conversations, "but about what it takes to do well as a part-time student who's also working."