Master's in Supply Chain Management
Simon Myoung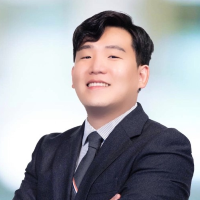 As a supply chain operations manager for the U.S. Army, Sgt. Simon Myoung kept track of more than $20 million in equipment on an SAP database management system. He also administered the entire inventory of his company and battalion—vehicles, radios, weapons, etc.— conducted monthly inspections of sensitive equipment to identify component shortages, and provided English-Korean translation services for press events with the South Korean army.
But until he enrolled in the Master's in Supply Chain Management program at Georgetown University, he had never worked with due diligence reports, the research and analysis typically done on a company prior to a business transaction. However, a month after graduating he was performing due diligence "deep dives" on companies, suppliers, and transportation modes for the Logistics Management Institute (LMI), where he is a supply chain consultant.
That expertise came from a class in due diligence reports that he took during his third semester at Georgetown.
"I think that those due diligence reporting skills were very helpful for my U.S. government clients and also my supply chain career as an intel analyst," Myoung says.
Myoung's experience is similar to that of many students pursing professional degrees at the School of Continuing Studies. They might have considerable expertise in one or more aspects of a profession, but because they might have worked in only one area, they lack the big-picture knowledge that can help them branch out and advance in their careers.
In the class in due diligence reports, Myoung's instructor took a broad approach to the subject, focusing on the concepts behind the reports, which can be done many different ways. So, when Myoung arrived at LMI, he had the skills to learn its system quickly.
"I didn't have any knowledge about it previously," Myoung says, "but I learned in the class, and I could apply those skills to my current job."