Certificate in
Global Displacement & Migration Studies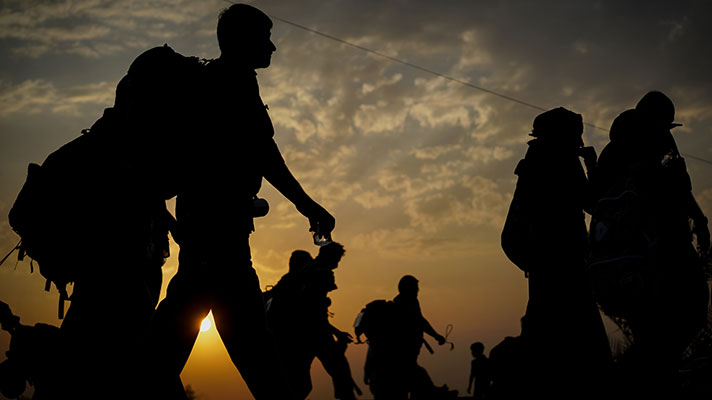 Certificate Program
Gain a comprehensive understanding of displacement and migration trends, drivers, and repercussions on a global scale.
Register Now
Request Information
Global Displacement & Migration Studies
Due to the COVID-19 pandemic, Georgetown University will continue with remote learning for all on-campus programs through August 2020.
---
Worldwide international migration is a large and growing phenomenon. Approximately 272 million people (or 3.4 percent of the world's population) now lives outside of their home countries. The United Nations High Commissioner for Refugees (UNHCR) estimates that more than 70 million persons worldwide were forcibly displaced from their homes in 2019. Understanding these trends, as well as their drivers and consequences, is critically important to improving policies and programs designed to minimize the impacts linked to such displacement and migration.
Georgetown's Certificate in Global Displacement & Migration Studies offers deep knowledge and information about the different groups of people on the move (including labor migrants, refugees, internally displaced, asylum seekers, and others), as well as the multiple causes and consequences of such movements. It also provides a global overview of displacement and migration numbers and trends, drivers of and policy responses to population movements, and the resulting impacts on origin, transit, and host countries.
The program curriculum will cover the major theoretical explanations underpinning displacement and international migration. You'll explore key areas such as global migration and refugee governance, differences and trends in national policies, integration experiences of immigrants in host countries, and connections between migration and displacement and other issues like security, development, and environmental change. Throughout the program, you'll also examine how research questions are answered in an effort to enhance existing knowledge and improve policies and practices. By the end of the program, you'll have a deeper understanding of displacement and migration trends, drivers, and repercussions on a global scale.
Ideal for: Mid- to senior-level executives

Ideal for

Mid- to senior-level executives

Duration: 1 week

Tuition: $4,995

Format: On-campus

Schedule: All day, Mon–Fri

Schedule

All day, Mon–Fri

Semester of Entry: Fall, spring, summer

Semester of Entry

Fall, spring, summer
Upon successful completion of the certificate, you'll be able to:
Understand current patterns and trends related to displacement and global migration, including the number and characteristics of those on the move at global, regional, and national levels
Understand differences among those on the move, including refugees, internally displaced persons, asylum seekers, and others
Articulate the causes of displacement and migration, drawing from both theory and empirical evidence
Describe the global refugee and migration governance frameworks and how they articulate the rights of people on the move and the responsibilities of origin, transit, and destination countries
Assess the interconnections between international migration and other transnational issues, such as development, security, and climate change
Discuss and articulate the strengths and weaknesses of the national policy frameworks governing the admission of migrants, control of irregular migration, and protection of refugees and other forced migrants
Understand the integration process of immigrants, and the resettlement process of refugees, in destination countries
Learn how to ask and answer relevant research questions about displacement and migration issues