Master's in Public Relations & Corporate Communications
Dyanne Smith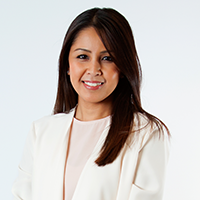 About the only thing Dyanne Smith can't do at her incredibly multifaceted job with Metro Media Marketing is, well, tell you in a few words just what she does.
"I try to put everything into one great sentence, and I can't," she says.
Smith plans the marketing strategy for the company and promotes its flagship publication, Northern Virginia Magazine, on radio, television, and social media. She arranges partnerships and organizes events that showcase the magazine and its advertisers. And she heads marketing efforts for two related ventures: Specialicious, a daily deals site for Northern Virginia; and CityFancy, a social dining app that helps diners find restaurants that match their tastes.
Look at all the people she interacts with in a typical day and you might think she's a born extravert, but that's not the case, says Smith, a 2012 graduate of the master's in Public Relations & Corporate Communications. In fact, she did a lot of that work in developing those skills at Georgetown.
The PR program's curriculum is hands-on and flexible, reflecting a profession that is constantly moving forward. Students are taught by instructors who are working in the field. And they learn to develop their strengths in ways that will help them to both advance their careers and give back to their organizations and the profession itself.
"I saw myself evolve on a personal and professional level," Smith said. "It pushed me to come out of my shell and confidently pursue larger career opportunities, specifically my first role in management."
Smith had many mentors at Georgetown, so it's not surprising that she's become a mentor herself at work. It's one way she's helping to spread the program's influence beyond the classroom.
"I always tell people it was the best decision I ever made."