Master's in Public Relations & Corporate Communications
Joe Scannell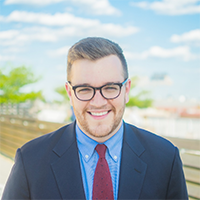 When Joe Scannell was about to graduate from Marquette University, he was eager to trade academia for the working world. That's not to say that he hadn't learned a lot at his Jesuit alma mater. It was there that he discovered public relations and found out he was good at it. But now he was ready for something new.
Still, while applying for corporate internships, Scannell decided to also look into Georgetown University's graduate program in Public Relations & Corporate Communications. Yes, he would be going back to school, he reasoned, but the classes were at night so he could work during the day and maybe learn from both worlds.
He was right on both counts, and, by any measure, his career has taken off since then.
Scannell didn't hear back about the internships. But, once he enrolled in Georgetown, he learned through the program that Edelman, one of the places he had applied to, had an internship opening in digital media strategy and had provided the school with a hiring contact that students could call.
Scannell interviewed for the position, got the job, and three months later was working full-time. Since then, he was promoted several times and in 2017, he was named one of PRNews' Rising Stars 30 & Under.
Working at Edelman, serving as a public relations officer in the U.S. Navy Reserves, and going to Georgetown made for a busy two years for Scannell. But it was worth it.
"I think the caliber of the professors that Georgetown has assembled as adjuncts is world class," he said, "and I feel I was learning from the best in the industry."