Master's in Public Relations & Corporate Communications
Trina Orlando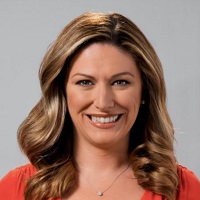 Before we talk about Trina Orlando's time at Georgetown, you really need to know about how she got her first broadcast news job in Erie, Pa.
Now, Orlando is from Pittsburgh, where the Januarys aren't exactly mild. But even that didn't prepare her for the colossal snow magnet that is Erie in the winter. (Plus, she had just returned from four years at the University of Southern California, where snow is something you "go up to"—for fun—not something to be endured for four or five months.)
So, she took off driving northeast from her parents' house—in a blizzard—and almost spun out along the way but kept going because she really wanted this job. And when she got to the station, the station manager told her he'd thought about cancelling the interview, but said:
"I felt bad to have you driving in the snow, but I figured if you actually showed up and didn't cancel, that meant you were one of us."
Yes, of course she got the job. And what this story illustrates is that Orlando, like so many Georgetown students and alumni, is not afraid to try new things.
Orlando spent nearly three years in Erie before moving to KDKA-TV in Pittsburgh, then landing her current job of six-plus years as a reporter for NBC Chicago.
So why did Orlando, who loves being a reporter, enroll in Georgetown's Master's of Public Relations & Corporate Communications program? To learn new skills. To be prepared—truly prepared—in case she moved into public relations someday. And to understand what life is like on the other side of the reporter-spokesperson dynamic.
"This was kind of unexpected for me," she said, "the way the program has really benefited me as a journalist as well."