Master's in Sports Industry Management
Bryce Tarrant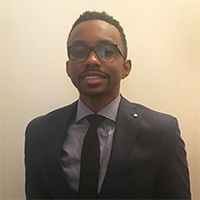 Not many sports fans shout, "We're Number Three!" But when Bryce Tarrant reflects on his job at BODYARMOR, the sports drink company … well, third doesn't sound that bad.
In fact, he prefers it.
The biggies, Gatorade and POWERADE, have been around for decades, compared to five years for BODYARMOR. But Tarrant says his company has something the others don't.
"Here, it has the feeling of an organization that is still kind of on the rise," said Tarrant, a marketing manager for sports partnerships at the firm's New York headquarters and a 2016 graduate of Georgetown's Sports Industry Management program. "There's still a lot of hunger in this company and you can see it top-down from the owners."
Which include Kobe Bryant. Who gets assists from BODYARMOR endorsers James Harden, of the Houston Rockets, and WNBA star Skylar Diggins-Smith, of the Dallas Wings.
OK, so they're not exactly also-rans. In fact, one of the most exciting events for Tarrant was when Bryant attended a recent press conference Tarrant helped organize at Madison Square Garden to announce that BODYARMOR would be the official "hydration partner" of UFC, the popular mixed martial arts organization.
Tarrant was already working in sports marketing when he started the Sports Industry Management program in 2015. But the grounding he received from courses such as Sports Law and Sports Communications & Public Relations gave him "a 360 view" of a fast-paced, exciting—and often demanding—profession.
"You really want to make your mark," said Tarrant, who noted that he has "a lot of responsibility" and "a lot of things on my plate."
"You really want to come through."