Master's in Sports Industry Management
LaRhonda Burley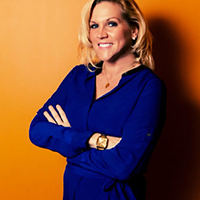 Ten years ago, LaRhonda Burley was one of the first people admitted to Georgetown's graduate program in Sports Industry Management. It was 2007, and the program's website had just been launched. Burley—then a lacrosse coach and administrative coordinator at Maret School in Washington, D.C.—found the site through a Google search and decided to apply.
"Going to Georgetown shaped my career," said Burley, now Senior Director of Partnership Marketing for the Washington Redskins.
By any estimate, it's a career that took off very fast. And it's amazing to see how prescient Burley was about a program that had just been created.
Burley said that, while she loved working at Maret, "it was time forme to think about the next step. I wasn't sure exactly what I wanted to do, but I knew that I needed to invest in my future and prepare a 'toolkit' that I could apply in various areas of business. The curriculum and real-life application of the program appealed to me and my personal learning style. I felt that I would gain the knowledge and understanding of the industry I needed to make an educated decision on where to a take my career."
She was right, on all counts. After graduating she worked for the Washington Mystics (which later merged with the Washington Wizards to form Monumental Sports & Entertainment). She then joined the Washington Redskins in 2014.
At Georgetown, "I met people who were willing to help me, and willing to share their time and expertise," Burley said. Now she does the same for current students as an adjunct instructor and Capstone advisor.
"It takes courage to ask for help," Burley said. "If someone asks for guidance, do what you can and pay it forward."