Master's in Sports Industry Management


J'Ron Erby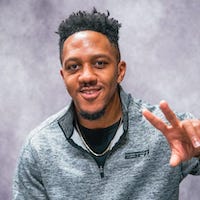 J'Ron Erby wasn't a good student in high school. Or maybe he was too good. Depends on your point of view. In any event, he didn't do his assignments as instructed.
"Let's say the class had, like, three hours to handle a project," recalls Erby, who has had ADHD since childhood. "I'd finish it in, let's say, 30 minutes and then cause a ruckus."
Concentrating on one topic for a long time just wasn't his thing; he was fast and efficient, and preferred to juggle a lot of balls at once—which, as it turns out, is just right for his job at ESPN. A Social Media Manager, he leads social marketing strategy for all ESPN-owned brand accounts, including a multitude of sports, and on any given day works with several of ESPN's marketing teams.
He loves it.
"The breadth of work is so awesome, it's never a boring day," Erby says. "I'm not spending, let's say, a month or so focused on one thing, but being able to attend to so many different projects for all different types of audiences—that's one thing I really love and appreciate."
Recently, Erby was named to the Forbes 30 Under 30—North America list of outstanding professionals in the sports industry. The magazine cited Erby's leadership in campaigns such as #BlackHistoryAlways and "There's No Place Like Sports," which drew 4.25 million likes on Instagram in less than a year.
But success has not been seamless for Erby, and not just because of ADHD. In 2016, while completing a public relations internship with the San Diego Chargers, he was struck by a car as he crossed a downtown street with friends.
"They say that where I got hit to where I landed was 40 yards—like running a 40-yard dash," says Erby, who was put in a medically induced coma for almost a month and later had to take "speech therapy, physical therapy—all of these things to try to be able to communicate again and live on my own as an adult."
Taking sports management classes was a godsend: first, at the University of San Francisco and later, after his skills were noticed by ESPN and he was asked to come to its Bristol, Conn., headquarters, through Georgetown's online Master's in Sports in Industry Management. He completed the course work in 2021 and graduated in 2022 while already well into his career. "It was really, really meaningful for me to go back to school, to educate myself further, to learn more about the industry, and also to give myself some time because [the accident] was a really big setback in my life," Erby says. "I'm definitely thankful, super grateful. A lot of time and effort has been put in to get to this point in my career. Thankful doesn't even say it enough."