Online Bachelor of Arts in Liberal Studies
Ricardo Paredes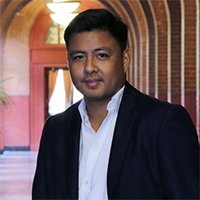 When they heard they would be expected to write a book in their entrepreneurship course instead of doing something more traditionally business-related, many of the students dropped the class.
Ricardo "Ricky" Paredes, a student in Georgetown's Bachelor of Arts in Liberal Studies program who was taking the course, thought of quitting too. But he had gone that route before.
"I didn't want to run away from challenges anymore," said Paredes, a native of the Philippines, whose book, "The Immigrant: Failing Forward in the Pursuit of the American Dream," was one of several student works published from the Launching the Venture course in 2017.
"I wanted to take it on."
Growing up in Bethesda, Maryland, Paredes never felt like he fit in. When he enrolled in the Georgetown bachelor's program, however, he decided he was tired of settling for second best. He felt that he had missed something by not going to college and that others were passing him by.
Paredes felt nervous about going back to school after working for several years, but said the program "built up my confidence to get back in the world of academia" and helped him improve his writing and public speaking skills.
"It's one big dream," said Paredes, now in his third year of the program. "I'm taking advantage of everything [Georgetown] has to offer."