Online Bachelor of Arts in Liberal Studies
Alyssa Rashaw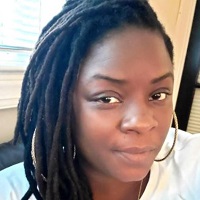 Alyssa Rashaw has worked on several research and media projects since graduating from Georgetown's Bachelor's of Arts in Liberal Studies program in 2017. But perhaps none was more reflective of the times than her internship with the Legal Services Corporation in 2020.
LSC is a nonprofit that provides legal services to those who otherwise could not afford them. In January 2020, Rashaw began writing the organization's blog. It would be a memorable assignment. Within weeks, the coronavirus would go from being a little-understood curiosity affecting countries far away, to a nascent American tragedy impacting some of the nation's poorest residents most of all.
"Legal Groups Brace for New Surge in Need for Legal Aid'' was the headline on Rashaw's April 2 blog. The next day, it was: "Top California Democrats say COVID-19 Renter Protections Won't Work."
To Rashaw, the pandemic represented yet another setback for people living in low-income, underserved, and often isolated communities.
"These people are never going to be able to live the American Dream [without] the opportunity to have upward mobility," Rashaw said.
Since 2014, Rashaw has been a Research Assistant at the Center for Applied Research in the Apostolate (CARA), where she co-authored a report on Black Catholics. She has also worked as a Project Administrator at the International Monetary Fund, and for more than three years she was an Administrative Assistant at Georgetown's School of Continuing Studies (SCS), where she is currently a student in the Master's in Public Relations and Corporate Communications program.
In SCS's undergraduate liberal studies program, Rashaw connected with instructors who were hands-on and committed to helping nontraditional students succeed.
"They do take the time to build those relationships," Rashaw said. "So it's important to know that people will have a lot of support within the Georgetown community."