Online Bachelor of Arts in Liberal Studies
Said Bilani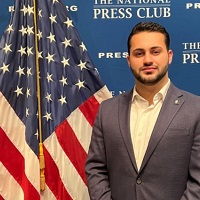 It's all good, of course, but Said Bilani says he's having a "very hectic" morning. And when Said El-Bilani tells you his morning is hectic—this is the Bachelor of Arts in Liberal Studies graduate who is now a Pickering Fellow at Georgetown's School of Foreign Service—it's probably best to accept his assessment.
We call Bilani on what seems like a typical morning. Already, he has finished his morning session of Office Hours with his students as a Teaching Fellow at Harvard, where he earned a graduate degree in education, and finished a commentary for a Middle Eastern news outlet on the United Nations Climate Conference in Scotland.
Soon, others start calling as well: the founder and CEO of Coalition of Hope Foundation (COH), a nonprofit Bilani advises and is involved with that specializes in humanitarian relief; a friend running for governor of Nevada; another friend running for Congress; and his mom, who calls from Florida to remind him to wear a coat.
If the "mom call" sounds usual, just remember that on this typically jam-packed day in November, Bilani is all of 23 years old—and still listens to his mother's advice.
While he might be considered young by some, Bilani is a valued member of the COH Board of Directors who is "very professional" and "follows through on projects," says founder Timothy Keegan, a senior vice president for Bank of America. In fact, when Keegan knows someone who needs to make contacts in Washington, he sends them to Bilani.
Bilani was awarded one of 45 highly competitive Thomas R. Pickering Fellowships in 2021 and is pursuing a career in the U.S. Foreign Service as a Diplomat. He enrolled in the Bachelor of Arts in Liberal Studies program in 2018, concentrating in International Affairs, after two years as a Posse Scholar in Pennsylvania.
"I loved the latitude it gave me to pursue two things," Bilani says. "For every year of academic growth, I gained a solid year of professional growth. I think that was the big takeaway."