Executive Certificate in
Transformational Leadership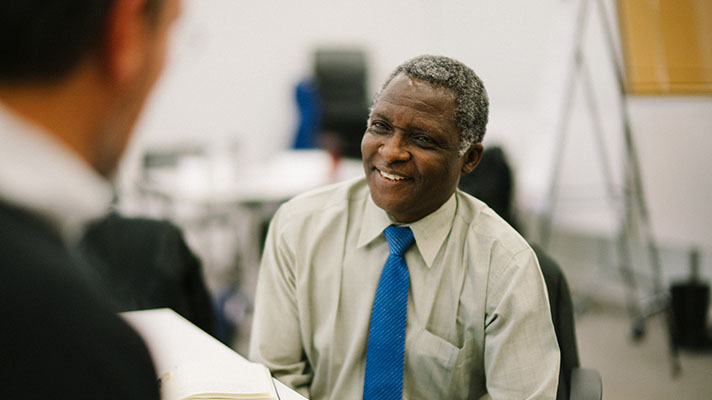 Executive Certificate in Transformational Leadership
The Executive Certificate in Transformational Leadership is a highly experiential fellowship program that emphasizes leadership development across three different levels: examining yourself as a leader and instrument of change, creating fulfilling relationships in a leadership role, and understanding the role of leadership within complex systems.
Our program provides an engaging and supportive learning environment. In the classroom, you'll learn from academics and practitioners, who share cutting-edge leadership development research and provide training on proven leadership practices. Expert coaches also provide one-on-one and small-group coaching to help you develop your personal leadership skills and vision. You'll have the opportunity to expand your network and connect with other senior-level professionals while participating in a blend of interactive group exercises, reading, and self-reflection. Upon completing the program, you'll have the enhanced leadership competencies to lead change, handle complex leadership challenges and bring about positive new outcomes within an organization or community.
This section has testimonials from current students and alumni.
Becoming an active participant in this program helped tailor my skills and strengthen my capacity to become a strategic thinker, intuitive manager, and inspiring leader—all while adding to my technical expertise."

Karina Nersesyan Transformational Leadership
Upon successful completion of the certificate, you'll be able to:
Demonstrate expanded capacity and skill as a leader
Understand essential distinctions about leadership, teams, change, communication, vision, and strategy that can lead to powerful new outcomes within your own organization
Leverage your leadership vision to guide continued development and success
Deepen your self-awareness and better access the choices available through your leadership role
Understand the personal experience of transformational learning and how to enact change in your organization
Access a network of engaged colleagues across sectors