Online Master's in Design Management & Communications
Sowmya Pelluru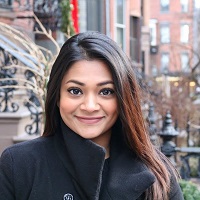 It could have been fodder for a mildly funny story, but for Sowmya Pelluru—who tends to think in more expansive, global terms—her minor lapse represented something more.
"I had moved to Boston for this job and forgot all my underwear back home in North Carolina," Pelluru says. "It was a horrible feeling and experience, and I was like, 'Okay, this needs to change.'"
By "needs to change," she didn't mean "Go to Macy's and buy some more." The experience "triggered some really negative emotions in me," Pelluru says, about trying to buy underwear from an industry that often sexualized women and held them to impossible standards.
"I saw all these different gaps, which essentially means that the industry is ripe for disruption," Pelluru says. "That's how the startup came to be."
Pelluru did some research, drew on her experience volunteering at a women's shelter, and pledged to confront the shortage of women's underwear in disadvantaged communities.
So Pelluru founded manakii, a socially conscious women's underwear company that plans to donate one pair of underwear for each pair purchased online.
And where does Georgetown fit into all of this? Pelluru began planning her startup after arriving in Boston a few years ago to do marketing for the home furnishing company Wayfair. But she felt she needed to learn more before launching a business of her own.
Friends suggested she pursue an MBA, but that didn't seem to match the combination of entrepreneurial, business, and marketing skills she needed.
So she Googled "creative and analytical master's" and found the Georgetown Master's in Design Management & Communications program. She liked its "human-centered" approach and the fact that she could take classes online while continuing her work in Boston.
"My instructors were incredibly supportive throughout each class," says Pelluru, who graduated in 2020 and has since been accepted into the Georgetown Venture Lab for alumni. "Georgetown has given me a community of entrepreneurs and advisors and resources that I wouldn't have otherwise."