Master of Arts in Liberal Studies
Marylise Uwabideli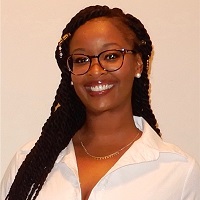 It wasn't until graduate school, in Georgetown's Master of Arts in Liberal Studies program, that Marylise Uwabideli found a literature course that truly spoke to her.
A native of Rwanda, she and her family immigrated to the United States when she was six, and, except for a year at an American school in Bogota, Colombia, she was educated in the U.S.
She loved to read, but no literature course really resonated with her until she studied African fiction at Georgetown. In that class, she read the novels "Things Fall Apart," by Chinua Achebe, about the onset of colonialism in Nigeria; and "Americanah," by Chimamanda Ngozi Adichie, about a young Nigerian who examines her identity after immigrating to the United States.
"With these books, I felt like there are other people who have gone through similar things as myself, immigrating to a new country, having a different-sounding last name," Uwabideli said. "It just opened my eyes so much."
At the same time, literature helps us approach the universal—the things we all share—through lives that might, on the surface, seem very different from our own. "It brings us all together and makes us all feel like we're human," Uwabideli said. "We all go through similar experiences."
While attending Georgetown, Uwabideli worked as a business and data analyst for Barrick Gold Corporation. In the future, she is interested in pursuing opportunities in international business or international development.
Both fields draw on diverse disciplines. So, it made sense for her to search for an interdisciplinary graduate program and choose international relations as a concentration.
"I loved it," Uwabideli said, "because I was able to have professors from all different fields, with all different backgrounds, who can contribute to my future."