Master's in Cybersecurity Risk Management
Scott Ferguson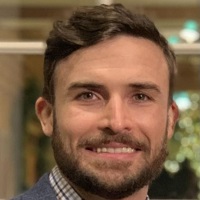 Scott Ferguson was about 8 years old when his father bought the big, boxy machine and put it in his home office. It lit up on one side, made funny noises when it was "connecting," and word among Scott's friends was that you could play some cool games on it.
Not that he could do any of that. The machine was new; very sensitive, as computers tended to be back then; and not something for a child to be playing with.
"I was only allowed to stand at the office door and admire it," Ferguson says.
Though always intrigued by computers, Ferguson had other interests as well. He later attended the U.S. Military Academy at West Point, where he studied geography and systems engineering, then spent 20 years on active duty in the Army, which included a deployment in Afghanistan and a tour in South Korea.
"I love this country," says Ferguson, who now lives in Hawaii with his wife, an Air Force officer. "And I think there's a lot to protect."
In the Master's in Cybersecurity program at Georgetown University, Ferguson found a challenge that spoke to both his technical interests and his desire to contribute.
"What I really admired about the program is the passion that a lot of the professors had," says Ferguson, who joined the first cohort and graduated in 2021. "You could feel they were excited to get the program rolling as the need for ethical cybersecurity professionals only continues to grow."
The program attracts a diverse group of students from a variety of professions. "People with different experiences really bring different viewpoints to problems."
"Cybersecurity is dynamic and fast-paced," Ferguson says. "The challenges in this environment are best solved when solutions are generated from multiple viewpoints."