Online Master's in Cybersecurity Risk Management
Jamaine Granger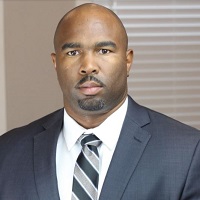 Jamaine Granger talks about his work with the kind of calm assurance that makes one grateful that, 1) such an unusual job exists and, 2) there's a West Point and Georgetown alumnus out there doing it.
"I'm actually out at a site right now, doing some testing near the U.S.-Mexican border," Granger says by cellphone one morning.
A test manager for the U.S. Department of Homeland Security, Granger is evaluating devices that can detect weapons of mass destruction—in this case, nuclear materials—embedded in vehicles. That's just one aspect of a job that has also taken the retired Army Captain on periodic trips to sites around the world.
And why did Granger, with a graduate degree in management in addition to his undergraduate degree in systems engineering, decide to pursue a Master's in Cybersecurity Risk Management at Georgetown?
"Mainly because of the relevance of cybersecurity in today's environment," Granger says. "This is a hot topic, and even in my role now I am a test manager, but my focus is moving toward the cybersecurity aspects of some of these systems that we're testing, building, and procuring. So I thought it would complement what I'm actually doing."
A native of Portsmouth, Va., Granger graduated from the program in 2021. He sees his work as a way to give back to the nation.
"I like the civil service aspect of it, where I feel like I'm doing something for my country," Granger says. "I like working for the government, where it's not about money. It's about security, making this place that we live in—the country—safe for my family and for everyone. I feel that everyone can do a little bit, and this is just my little part."