Master's in Emergency & Disaster Management
Eirini Pitta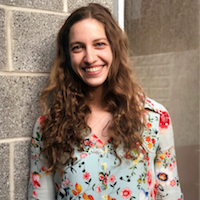 As an undergraduate at Georgetown University's School of Foreign Service, Eirini Pitta was intrigued by the subject of climate change and its implications for global development. Originally from Greece, she worked as a student at The Climate Reality Project in Washington, D.C., and studied abroad in Ghana, where she helped a foundation with health and environmental projects.
In 2016, her work visa ran out. Hoping to continue her education in the United States, she began searching for a graduate program that could further her training. She found it in the Master's in Emergency & Disaster Management.
"I was fascinated by it because I saw that it combined my interests in international development and climate change," Pitta said.
Pitta is especially interested in making communities more resilient, in every sense of the word, but particularly in the face of climate change. And it's no coincidence that three of the four phases of emergency management—mitigation, preparedness, response, and recovery—speak directly to this challenge.
Pitta's Capstone project analyzed the impact of climate change on coastal Ghana. According to Foreign Policy magazine, thousands of communities in Ghana and 12 other nations along a 4,000-mile coastline from Mauritania to Cameroon are at risk of being washed away.
"I want to focus on the more vulnerable countries—the countries that are affected by disasters and emergencies and have less capacity to deal with them," said Pitta, who was honored with a Tropaia award for her work in Georgetown's program. "What can be done to reduce vulnerability and build resilience?"