Master's in Applied Intelligence
Karson Stevenson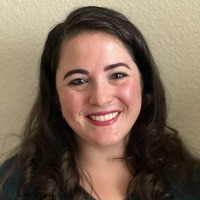 Midway through her graduate program in applied intelligence, Karson Stevenson contacted Faculty Director Frederic Lemieux, Ph.D., with an unusual request: She wanted to "triple-up" on courses.
"He was, like, 'You know, they don't recommend that because it's a pretty heavy workload,'" Stevenson recalls. "And I was like, 'I have some time before my next role starts [at work]. I have a 4.0. If I keep my 4.0, can I do this?'"
Lemieux agreed, and, as it happened, Stevenson did indeed keep her 4.0, triple up on courses—and maintain that perfect record through graduation. And while Lemieux was right to caution her about taking on too much, a glance at her resume shows why she thought she could do it. She has always expected a lot of herself and is not afraid to take on challenging assignments.
At Ohio Wesleyan University, which she attended on a field hockey scholarship, Stevenson majored in psychology, neuroscience, and Spanish, with a minor in exercise science—something she intended to pursue as a career. But later she realized that she was more interested in mental health. So, after graduation, she accepted a position with the Denver Research Institute, which was looking for someone with a knowledge of traumatic brain injuries to pilot various forms of behavioral therapy with veterans suffering from addiction and suicidal thoughts.
"If you're familiar with veterans groups, you know that suicidal ideation with substance abuse is rampant," Stevenson says. "And that's a very large concern."
Stevenson served as a professional research assistant at the institute for five years, the last year while attending the Master's in Applied Intelligence program remotely. She especially valued the online discussions with students from different professional backgrounds.
"Oftentimes in my classes I was one of the few people coming from a mental health background. It was a lot of military, a lot of law enforcement," Stevenson says. "It was very dialog-based, and it was fantastic to get to talk to my peers who had different backgrounds" and with professors with broad experience in the field.
A Georgetown-sponsored internship with the Department of Homeland Security (DHS) led to Stevenson's current position as an intelligence analyst for Elevation, LTD, a DHS contractor. There, she has done research on human trafficking and is currently involved in writing reports on the fentanyl epidemic that go to the DHS secretary and, sometimes, the White House.
"Homeland security really stood out for me because, if you understand why a person does something, you can help stop it," Stevenson says. "You can prevent it. You can alter it."