Master's in Higher Education Administration
Sharon Bakewell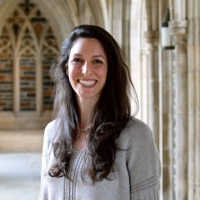 She majored in Russian and public policy as an undergraduate at Duke University, studied in St. Petersburg, and considered a career working abroad. But it was an internship closer to home, at her alma mater's undergraduate admissions office, where Sharon Bakewell found her calling.
"I just found the process fascinating—this idea of crafting a class," Bakewell says. "You have a lot of applicants that are really qualified, but you also have all of these institutional needs that are driving decisions. I also loved interacting with students and their families; I loved helping them decode that process and make it more transparent."
Bakewell served as an admissions counselor at Duke for two years. She later spent four years at Georgetown, first as Assistant Director for Undergraduate Admissions and then as Associate Director of Admissions and Marketing for the online nursing program.
At Georgetown, Bakewell became a strong advocate for low-income and first-generation college students. As part of her role in undergraduate admissions, she led the admissions committee for the Georgetown Scholarship Program, Community Scholars Program, Knowledge Is Power Program (KIPP), and Cristo Rey Network.
Bakewell began the Master's in Higher Education Administration program in 2019 and graduated in 2021. She wrote her Capstone on how college advisors can address the barriers to success that nursing students from underrepresented groups may face.
It was a big topic, and it took a while to narrow it to something she could complete in a semester.
"My Capstone advisor was so helpful on this," says Bakewell, who now, as an admissions manager for the educational technology company 2U, works with the University of North Carolina's graduate business school. "Having a dedicated advisor whom you met with regularly, getting to know them on a deeper level, and receiving their feedback—that was invaluable."