Certificate in Social Impact Partnerships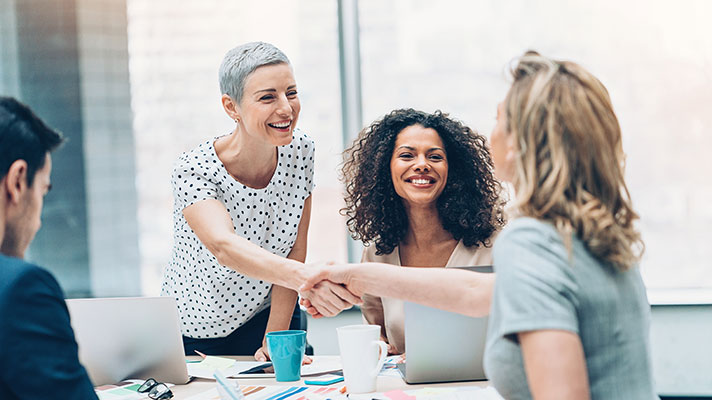 Certificate Program
Live Online Format
Develop strategic partnerships to create social impact now and into the future through a signature design thinking approach.
Request Information
Partnerships within the social impact sector are at an inflection point that requires a different mindset to succeed. While the number and types of partnerships are at an all-time high, impact can be harder to achieve despite the many new models. Corporations partnering with nonprofits, purpose brands, public-private partnerships, cross-sector collaborations, the rise of shared value, strategic alliances, and branded cause partnerships—these are just some of the approaches that make partnership work exciting, but also increasingly challenging to break through the clutter in an effort to create partnerships that matter.
It's time for interventions that infuse creativity and innovation at key stages in the process of partnership development. This program will equip you with the mindset that despite the codification of process and strategy, partnership development is still essentially driven by people. How do you tap into that human element by using both sides of your brain as the steward of a social impact partnership?
With curriculum developed and taught by Georgetown University's Center for Social Impact Communication, the Certificate in Social Impact Partnerships is a three-day intensive program that teaches current and prospective partnership professionals of all levels how to apply human-centered design thinking, powered by empathy, to create and sustain partnerships. You'll walk away with the tools needed to successfully develop partnerships, but also the perspective and confidence to apply it to your own situation, using your strengths as a current or prospective partnership professional dedicated to creating social impact in the world.
Ideal for: Current & aspiring social impact professionals

Ideal for

Current & aspiring social impact professionals

Duration: 3 consecutive days

Duration

3 consecutive days

Format: Live Online

Tuition: $2,995

Schedule: All day, 3 consecutive weekdays

Schedule

All day, 3 consecutive weekdays

Semester of Entry: Fall & spring

Semester of Entry

Fall & spring
What Is Live Online Learning?
Georgetown faculty deliver exceptional educational experiences based on a human-centered approach that integrates the needs of professional learners and the possibilities of technology. Live online classes are kept small to support interactive engaged learning and collaboration.
Upon successful completion of the program, you'll be able to:
Distinguish the characteristics of various partnership models used within the social impact sector
Understand how design thinking can be used as an intervention in the process of social impact partnership development
Apply this signature approach to a current partnership challenge facing society or an organization
Create a partnership action plan that reflects your human strengths and the challenges you may encounter as a social impact professional, now and into the future
Testimonials from current students and alumni.
Many partnership professionals are looking to create social impact at scale—but how can we strategically implement meaningful partnerships that catalyze change? Georgetown's Certificate in Social Impact Partnerships is a must for those looking to transform their partnerships through focusing on community, collaboration, and the creation of shared value."

Elizabeth Truffa

Certificate in Social Impact Partnerships

I can't believe how much I grew both personally and professionally in the three days I attended this program. Not only did I develop a solid understanding of what makes a social impact partnership transformational, but I also walked away with actionable next steps for building human-centered partnerships in my current role."

Marlee Margolin

Certificate in Social Impact Partnerships

The Certificate in Social Impact Partnerships provokes leaders to thoughtfully design compelling, purpose-driven partnerships that build connection, trust, and sustainable outcomes for the organizations and communities we serve. As a result, I've effectively humanized our work while driving social impact and tangible value to our business."

Hermeka Ray

Certificate in Social Impact Partnerships

Through a unique human centered design thinking process, Georgetown University's Certificate in Social Impact Partnership Design assists changemakers in creating and activating strategic partnerships that make a difference for people, organizations, and society."

John Trybus, Managing Director

Certificate in Social Impact Partnerships
---