Master's in Journalism
Judy Kurtz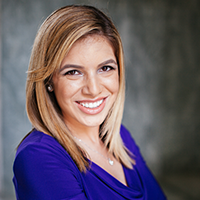 When George W. Bush came to the defense of the media after it was brazenly attacked by President Trump, the Fourth Estate all but swooned.
Wasn't this the same media that spent eight years criticizing the former president for his treatment of the press corps? wondered Fox WTTG-TV anchor Neil Cavuto. So he turned to Judy Kurtz, one of the network's Washington-based correspondents, and asked if she could explain what was going on.
Kurtz—TV commentator, newspaper columnist, and Georgetown Journalism graduate—was more than happy to explain, in words everyone would understand.
"It's kind of like your ex-boyfriend showing up at the class reunion," she said, letting that picture sink in. "Looking pretty good!"
Judy Kurtz is an entertainment reporter for The Hill ("Also, known as the gossip columnist," she added.) And she learned much of what she needed to write her columns at Georgetown.
But isn't that not as, well, important as, for example, covering global warming and the Republican's tax plan?
"It's the first thing people turn to when they open up the paper," Kurtz said. Moreover, in this age of hyper-partisanship—when criticizing an opponent's position can quickly lead to impugning his or her character—anything that reminds the public that politicians are people and not merely cutouts spouting opinions and policy positions is arguably a public service.
"It's shining a light and showing, maybe, the human side of politics and politicians," said Kurtz, who graduated from the program in 2015 and has returned to fulfill her dream of teaching the profession she loves. "I try to show the more lighthearted news that's taking place on Capitol Hill."