Master's in Journalism
Callan Mathis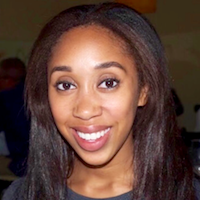 Callan Mathis didn't grow up watching pro wrestling. And while she learned a lot as a Journalism student at Georgetown—interning, for example, at the British Embassy, ESPN, and AARP—none of these places taught her what a Final Move was or showed her how Brock Lesnar finally took down The Undertaker.
No, Mathis learned all this on her own as a junior social media director for World Wrestling Entertainment (WWE), a cultural icon watched by millions of people around the globe.
"Oh, my gosh, it's just so much fun every day," said Mathis, a 2017 Journalism graduate who applied for the job last spring without knowing quite what to expect.
What she also didn't know was how much she would come to love it, love the team of people she works with, love the crazy energy of the matches, and love posting news and videos about a phenomenon that is part sport, part theater, and part morality play, all rolled into one.
And while Georgetown didn't teach her the finer points of pro wrestling, it did help her refine and tighten her writing—skills that are critical for someone posting multiple messages on Facebook and Twitter throughout the day.
"I was a little more loquacious when I came to Georgetown," Mathis said, "And I became a lot more 'to the point.'"
She was nervous the first time she had to post live copy, knowing that millions of people would be reading it. But as it turned out, the skills she learned at Georgetown served her well.
"You have to be pretty precise," she said. "Because there's no one checking your copy."