Master's in Journalism
Lezla Gooden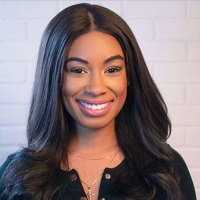 The SUV sped by so close, she could have reached out and touched it.
Tires squealing, it swerved wildly down the street where Lezla Gooden, a TV reporter, was standing, waiting to go on air in the midst of a Black Lives Matter protest.
"Charlottesville"—that's all she thought. But there would be no Charlottesville in Bakersfield, Calif., that day. No one was killed or injured. Miraculously, no one even hit. The charge would be attempted murder.
Gooden, a reporter for the local Scripps affiliate and a graduate of Georgetown's Master's in Journalism program, didn't get to make the report that night. She was too busy trying to find the rest of her news crew, which had scattered when they heard the screeching and the screams.
It capped a sometimes difficult, often stressful year: A pandemic. Raging wildfires that fouled the air and made your voice raspy. Racial justice protests, that, as a black reporter, forced you again and again to explain why you couldn't "take sides."
When Gooden entered Georgetown's Journalism program in 2015, she had already interned for C-SPAN for four years as a broadcast journalism major at Hampton University. But she wanted to learn more.
"What I really wanted to focus on most was writing, because that's the most fundamental tool, no matter what you do in this industry," Gooden said. "And the program is totally immersed in writing."
After graduating in 2017, she became a reporter for WSLS 10, an NBC affiliate in Roanoke, Va., where she worked for a year before moving to the bigger market in Bakersfield.
Does she still love the job, despite everything?
"I do," she said, after a pause. "It's a great privilege, because you're on the front lines of history, and you do not want to mess it up."