Master's in Cybersecurity Risk Management
Benjamin Cronin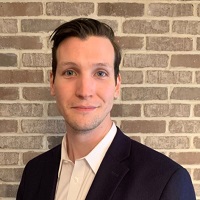 Talk to Benjamin Cronin for any length of time and you realize that not only does he know a lot about cybersecurity risk and compliance management, he's able to explain it—clearly and in great depth—to just about anyone.
Cronin might apologize for going a bit "into the weeds," but the truth is, his work requires a keen understanding of a complex cybersecurity landscape that is evolving every day.
"It used to be, 20 years ago, that cybersecurity was a very much 'check-the-box' procedure," says Cronin, who, as an account manager for Telos, an information technology and cybersecurity company based in Ashburn, Va., explains cybersecurity issues to representatives from some of the most prominent federal agencies, contractors, and regulated enterprises. "You were able to assess your system, then would not have to reassess that system for another three years. Well, that time is long gone."
With that kind of expertise, you might wonder why Cronin felt it necessary to apply to the Georgetown Master's in Cybersecurity Risk Management program. The answer involves the need for developing leaders to have—in addition to that critical and ever-evolving "weeds" knowledge—a holistic, big-picture understanding of their field.
"I was gaining a lot of experience, but I felt like that experience was a mile deep and an inch wide," says Cronin, turning the popular phrase on its head. "There was a confluence of two factors that led me to apply to Georgetown: one, I just missed being in that education class environment that sparks curiosity and gets you thinking outside the box and meeting people. But I also wanted to gain a better context of how what I do works in the greater cybersecurity view: what questions I should be asking and what I should be considering."