Master's in Cybersecurity Risk Management
Sharon Cho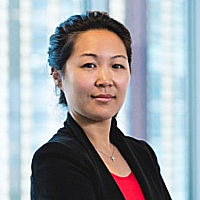 When Sharon Cho was completing her MBA at American University, she took a few courses in cybersecurity just to get a feel for what it involved and ended up "falling in love with it."
"And from there I was, like, 'Okay, I definitely want to change my career,'" Cho says, "and I was hitting a roadblock because a lot of the cybersecurity jobs that I was applying for were looking for more experience."
She decided to get that experience in the Master's in Cybersecurity Risk Management program at Georgetown University. While it was not job experience per se, it offered something similar: real-world, hands-on training taught by professors who were both academics and industry professionals.
She applied and was accepted, and a month before starting the program she was offered a job as a cyber domain specialist at Booz Allen Hamilton. The company liked that she was preparing to enter Georgetown's program and pursuing more practical training in the field.
"I was able to apply everything that I was learning almost directly into my job, almost immediately, which is very fortunate," Cho says.
So how does one "fall in love" with cybersecurity? Foremost, Cho likes being able to apply her skills to help people protect their information and identity. She also enjoys the intellectual challenge of keeping up with technology, and the conceptual work of devising and refining cybersecurity strategies.
Looking back, Cho also loved the collaborative atmosphere of Georgetown's program. Some students had years of experience in cybersecurity; others had virtually none. But they all shared a fascination with the field and worked together to improve their knowledge and skills.
"Not everybody is the same, but we all just have this interest and really care about cyber," Cho says. "And that's something I really appreciate about this program."