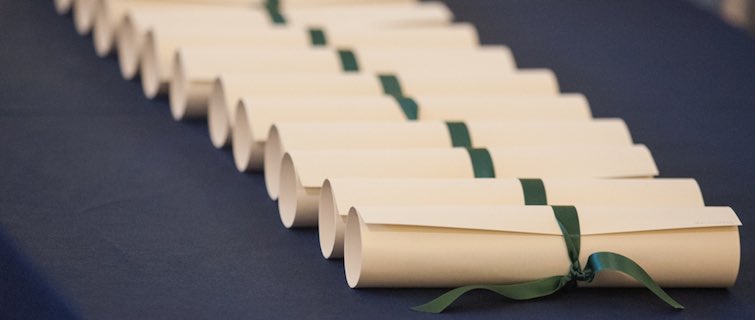 Responding to industry demand and the ongoing need for professionals to enhance their skills to stay relevant, Georgetown University has announced the rollout of a new credential: graduate certificates. Adding on to the existing portfolio of professional noncredit certificates, these new credit-bearing programs will each include four graduate-level courses, totaling 12 credits.
The first graduate certificate programs the University will launch will be Lean & Agile Practices, Competitive Business Intelligence, and Cybersecurity Risk Management. Available in both online and on-campus formats, all three programs are accepting applications beginning fall 2019.
In addition to addressing the needs of the business market, the graduate certificates will also offer increased flexibility for students who aren't set on a master's degree and are looking for an "in-between" option. These programs will prepare students with the skills and expertise they need to get ahead, without holding them to the long-term commitment of a master's program. As an added benefit, the graduate certificates can either stand alone, be stacked as part of a progression toward a master's degree, or be pursued by students already enrolled in certain master's programs, thus enabling them to graduate with both a master's and a graduate certificate in a specific area.
Here are more details about the new graduate certificates:
Lean & Agile Practices
The Graduate Certificate in Lean & Agile Practices focuses on two critical areas.
The "Lean," in this context, refers to the application of "lean" manufacturing principals within the field of project management. Popularized by Toyota Motor Corporation, lean manufacturing systems streamline production, distribute work more evenly, and cut waste.
"Agile" project management is a method for organizing dynamic, technology-driven projects whose objectives, specifications, and challenges are expected to change over time. Unlike traditional project management, the entire course of a project is not mapped initially, and the clients are involved from the start, not simply presented with a finished product.
"What this is saying is, 'Let's start building now,'" said, George Moschoglou, Ph.D., faculty director at Georgetown for the project management credit portfolio. "We build in small increments. We are adaptable to change. We don't assume we know everything up front."
The credits earned from the Lean & Agile Practices Graduate Certificate can be applied to the Master's in Information Technology Management or Master's in Project Management programs.
Competitive Business Intelligence
The Graduate Certificate in Competitive Business Intelligence teaches students to navigate our increasingly information-driven world, sort and analyze data, and turn that analysis into actionable business decisions. Taking a global perspective, the course integrates case studies and real-world client work, providing valuable opportunities to gain both theoretical knowledge and hands-on experience.
After completing the certificate, students will be able to analyze competitive market strategies, synthesize business intelligence and trend data to support business decisions, and communicate with customers, suppliers, professional organizations, and others involved in the industry.
The Competitive Business Intelligence Graduate Certificate can be applied to the Master's in Technology Management or Master's in Applied Intelligence.
Cybersecurity Risk Management
The Graduate Certificate in Cybersecurity Risk Management is launching simultaneously with the eponymous master's degree—one of the few such degree programs on the East Coast, according Frederic Lemieux, Ph.D., faculty director of the Master's in Applied Intelligence—that will enable students to thrive in this critical and growing field.
Students studying Cybersecurity Risk Management and Applied Intelligence will also have the opportunity to be involved in Georgetown's Red Cell, where they will engage in a broad range of "thinking outside the box" analyses. Originally developed after 9/11 to identify strategic surprises, or "black swans," Red Cell analysis has also been applied to the business sector.
"By creating a Red Cell here at Georgetown," the Cybersecurity program states, "we provide a unique learning experience outside the classroom, helping students acquire and enhance in-demand alternative analysis skills."