Master's in Human Resources Management
Alice Ferretti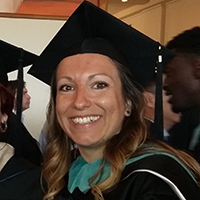 Imagine you got a new job.
In a new field.
In a workplace where you start out as the sole member of your department and must come up with all its policies, protocols, and procedures pretty much on your own.
Oh, and another thing: It's in a foreign country, too.
"Daunting" might be one way to describe it, but that word never came up in conversation with Alice Ferretti, a native of Italy, who has been in charge of human resources at the tech startup Vidoori, Inc. since last July.
"It's a lot of hard work," she said. "But it's also fun."
What makes this so? Three reasons: First is the talent and ingenuity Ferretti brings to the job. Then there's the collaborative atmosphere at the company itself. And finally, there is the fact that Ferretti, who prior to starting the job completed a master's degree in Georgetown's Human Resource Management program, "was able to apply what I learned on Day One of my job."
"I'm using all my knowledge from the program to help the company and support the growth of the company," Ferretti said.
The company has grown from 15 employees when Ferretti started last July to 55 in just eight months. She now has an assistant HR specialist, too.
Before coming to the United States, Ferretti earned a master's degree and certification in clinical psychology in Italy. A professor working in HR suggested she explore the field, and she decided to apply to graduate programs in America, with Georgetown as her first choice.
During her time at Georgetown, she benefited from instructors working within the field and she is now giving back by working as a teaching assistant for the program.
"I like that I'm continuing my learning experience and helping students with their final projects," Ferretti said.