Master's in Human Resources Management
Megan Pierouchakos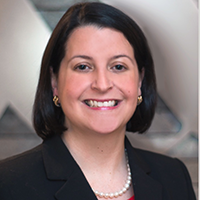 What do students like best about the Master of Professional Studies programs at Georgetown's School of Continuing Studies?
They tend to mention two things: First, that the practical education they're receiving can be applied almost immediately to their jobs. And second, that many of the instructors they meet are invaluable mentors who can help them advance their careers.
Megan Pierouchakos, a 2016 graduate of the master's program in Human Resources Management, can vouch for both benefits, although she has a little twist on the second: Yes, there was a lot of mentoring going on in her HRM classes, but she was one of the ones doing it.
"That was a side benefit I wasn't expecting," she said. "I was helping to mentor and coach people who were building up their careers or were fresh out of undergraduate school."
By the time Pierouchakos entered the program in 2012, she had already had nearly eight years of experience as a corporate recruiter and was working at Freddie Mac. She enjoyed the work but felt that to advance she needed more well-rounded exposure to the field.
"I wanted to brand myself as an overall HR professional rather than a recruiter," she said, adding that the program "really helped differentiate me so I could pursue positions outside recruitment, which was my goal."
As an informal mentor, Pierouchakos gave a lot to the HRM program. But, as it turned out, she got something back as well. In her new position as Vice President HR Programs, Talent Management and Development, at the American Bankers Association, she finds talented employees and helps train them for specific leadership positions in the organization.
That is, she develops talent—just like she was doing at Georgetown.