Master's in Human Resources Management
Christopher Ashley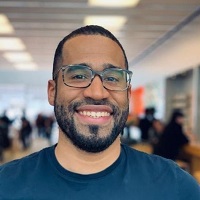 If you've been to an Apple store recently, you've no doubt have had the experience of being met by one or more of its bright, energetic employees who are really sharp and personable and treat all your questions—even the not so astute ones—with good humor and equanimity.
You've had this experience? Well, you can thank Christopher Ashley, a 2019 graduate of Georgetown's Master's in Human Resources Management program. As an Apple Senior Manager for the Washington D.C., region, Ashley is charged with optimizing the customer experiences of the company's Metro Washington stores, which means supervising the supervisors of these employees.
During his time at Georgetown, Ashley not only excelled in the program, he took advantage of much of what the broader University has to offer.
In the summer of 2018, he traveled to Barcelona, Spain, with members of the Sports Industry Management master's program to learn about the business strategy of that city's world-famous soccer team, FC Barcelona. He also networked with graduate students from other campuses, joined the Black Graduate Student Alliance, and mentored local high school students, many of whom would become first generation college students.
And, for his Capstone project—improving leadership coaching for middle managers—he worked with a faculty advisor who is an expert in the coaching field.
"There is a specific gap in really developing high performers to work their way up the ranks, transitioning those skills to be managers of people," said Ashley, a graduate of the University of Pennsylvania.
As part of his Capstone, Ashley also provided free coaching to fellow graduate students. And today, in addition to working at Apple, he is coaching about 20 professionals through his own company.
"I definitely took full advantage of all the unique offerings provided to Georgetown students," he said.