Master's in Human Resources Management
Maria Cristina Cabrelle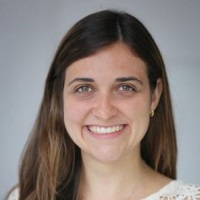 Maria Cristina Cabrelle has lived on three continents and picked up languages and skills in each of them. But for now, let's concentrate on what she learned on the second one—specifically, in the United States, in Washington, D.C., at Georgetown's School of Continuing Studies.
A native of Venezuela, Cabrelle had already worked in both marketing and human resources when she entered the Master's in Human Resources Management program in 2016.
"It's a very well-known university," Cabrelle said. "I enjoyed that it was very international and there was a network of friends and [colleagues] that I could build."
During part of her time at SCS, Cabrelle was also a Research Assistant at Georgetown's McDonough School of Business, where she analyzed survey questions to determine which ones best predicted levels of employee engagement and retention.
At Georgetown, Cabrelle learned "strategic HR," which is used to explore the root causes of problems that may manifest themselves in many ways. HR professionals can use this type of analysis to determine whether a policy or initiative is truly addressing the right issue.
After graduating in 2018, Cabrelle got a job in HR Operations at Airbus's North American headquarters in Washington. Located not far from SCS, Airbus has a partnership with the Master's in Project Management program and is well-known to many SCS students and faculty.
After a year in that position, Cabrelle was promoted to HR Business Partner in Airbus's world headquarters in Toulouse, France. There, she regularly uses the skills she learned at Georgetown, including the "root cause" analysis from strategic HR.
"I like helping others succeed," Cabrelle said. "And I like to be in daily contact with the people, building relationships, and also being able to feel and see with my eyes the impact of my daily activities."